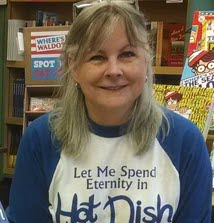 Jeanne Cooney is the author of the popular Hot Dish Heaven Mystery Series: Hot Dish Heaven, A Second Helping of Murder and Recipes, and A Potluck of Murder and Recipes. Her new series, It's Murder, kicks off in March 2022, with the release of It's Murder, Dontcha Know. Jeanne splits her time between northwestern and central Minnesota.
"It's Murder Dontcha Know: A Quirky Murder Mystery with Recipes will delight murder mystery cooks with a story steeped in trouble and bubbling with intrigue. It's a cozy mystery...
Hello from the town of Hallock, Minnesota, where we just survived our fiftieth blizzard of the winter. Okay, that may be an exaggeration. But, uff-da, most of the daytime...
Subscribe To Jeanne Cooney's Newsletter!