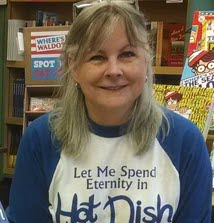 Jeanne Cooney is the author of the popular Hot Dish Heaven Mystery Series: Hot Dish Heaven, A Second Helping of Murder and Recipes, and A Potluck of Murder and Recipes. Her new series, It's Murder, kicks off in March 2022, with the release of It's Murder, Dontcha Know. Jeanne splits her time between northwestern and central Minnesota.
Jeanne Cooney, Minnesota author and humorist, will offer her tongue-in-cheek look at life in rural Minnesota when she appears at the Painted Prairie Vineyard in Currie, Minnesota, on Wednesday,...
"It's Murder Dontcha Know: A Quirky Murder Mystery with Recipes will delight murder mystery cooks with a story steeped in trouble and bubbling with intrigue. It's a cozy mystery...
Subscribe To Jeanne Cooney's Newsletter!