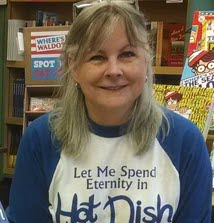 Jeanne Cooney is the author of the popular Hot Dish Heaven Mystery Series: Hot Dish Heaven, A Second Helping of Murder and Recipes, and A Potluck of Murder and Recipes. Her new series, It's Murder, kicks off in March 2022, with the release of It's Murder, Dontcha Know. Jeanne splits her time between northwestern and central Minnesota.
Rendezvous with a Writer on L.A. Talk Radio hosts award winning author Jeanne Cooney to discuss her book "It's Murder, Dontcha know" on Thursday, August 31 at 6:00 p.m....
Hello, everybody! It's Gustaf Gustafson. And I'm sendin' holiday greetin's from Hallock, up in the northwest corner of Minnesota, just twenty miles from the Canadian border. Winter is here....
Subscribe To Jeanne Cooney's Newsletter!