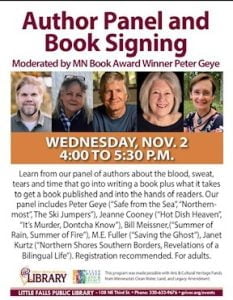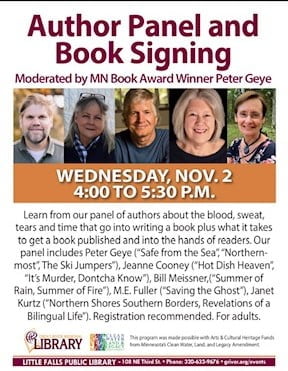 Folks can learn how novelists and other writers approach writing, publishing and marketing their books. The Little Falls Carnegie Library will be presenting an interactive author panel Wednesday, Nov. 2, from 4 p.m. – 5:30 p.m. in the Pancratz Community Room.
The public is invited to hear authors working in various genres talk about their writing process and their books. The five authors combined have written novels, mysteries, poetry, essay collections and memoirs giving the panel a broad perspective on the steps of bringing a book from idea to fully fledged story.
The panelists include Peter Geye (The Ski Jumpers), Jeanne Cooney (The Hotdish Heaven Mystery Series), Bill Meissner (Summer of Rain, Summer of Fire), M.E. Fuller and Janet Kurtz. An author meet and greet with book signings follows the panel discussion.
Moderating the event will be Minnesota Book Award winning author, Peter Geye.
Geye's newest novel "The Ski Jumpers" was released Sept. 13, and Meissner's "Summer of Rain, Summer of Fire" is even more recent with a publication date of Oct. 31. Cooney's most recent book "It's Murder Dontcha Know?" came out this past spring. Fuller's "Blood on the Bridal Wreath" published in May of 2021, and Kurtz's reflections "Northern Shores Southern Borders" came out in December 2021.
This program was made possible with Arts and Cultural Heritage Funds from Minnesota's Clean Water, Land, and Legacy Amendment. It is appropriate for teens and adults, writers and readers and book clubs. Limit 60.
The Little Falls Carnegie Library is located at 108 NE Third St., Little Falls.