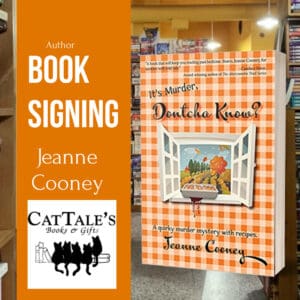 Jeanne Cooney, local humorist and author, will sign copies of her latest book, "It's Murder, Dontcha Know," at Cattale's books and gifts in Downtown Brainerd, Minnesota on Friday, June 10  from 11:00 a.m. to 2:00 p.m.
"It's Murder, Dontcha Know," along with Cooney's popular "Hot Dish Heaven" mystery series, are humorous who-done-its published by North Star Press. They are set in the Red River Valley of northwestern Minnesota and feature an array of colorful, Scandinavian characters as well as old-time recipes. 
About the book: After a hard life on a farm in northwestern Minnesota's Red River Valley, Doris Connor buries her philanderer husband and moves her century-old Sears and Roebuck farmhouse into the small Scandinavian community of Hallock, located on the edge of nowhere. She longs for a retirement heavy on solitude and serenity, but her plans are put on hold when her flamboyant sister and a ninety-year-old friend of the family move in. To further complicate matters, the local pharmacy is robbed, the suspect is murdered, and the sheriff believes Doris's two adult children of being complicit in the crimes. Doris realizes that a placid existence is possible only if she first proves her children's innocence. But can she find the killer among the folks in Hallock? And if she does, will the sheriff, an old flame but a new headache, believe her?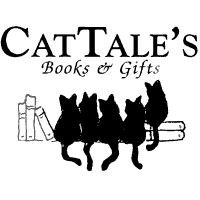 In previewing "It's Murder, Dontcha Know," Lake Superior Writers recently said, "There are plenty of twists and turns that keep the murderer a mystery until the very end and enough references to hot dishes and bars to encourage you to head to your kitchen every couple chapters."
"Mpls-St. Paul Magazine" said of Cooney's first book, "Hot Dish Heaven," "What makes this book so fun is Cooney's ability to spit out phrases such as 'uff-da' and dish out recipes such as Jell-O Salad and Tater-Tot Hot Dish faster than you can say, 'Yah, ya betcha.'" And Midwest Book Review said of "A Potluck of Murder and Recipes," the final book in Cooney's first series, "It's another terrific and original mystery from the pen of Jeanne Cooney and once again documents her complete mastery of the genre." 
Cooney, who is represented by Blue Cottage Agency, is a popular speaker at conferences and community gatherings and has been appeared at the Minnesota State Fair and Hostfest, the largest Scandinavian festival in North America. In addition, she and her books have been highlighted on Twin Cities' television and radio, as well as in the "Minneapolis StarTribune," "the Fargo Forum," and the "Minot Daily News," among other Midwest newspapers. 
Minnesota Public Radio has also named Cooney one of a handful of writers to read for Minnesota-based mysteries. When asked if she intends to continue writing about northwestern Minnesota, Cooney said, "Yah, ya betcha. The people there are great, and the food is pretty darn good. So I can't see doing anything else, dontcha know."